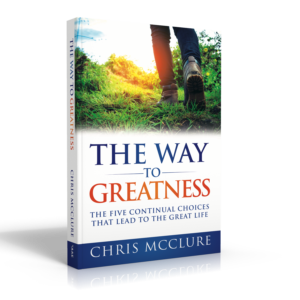 THERE HAS TO BE MORE TO LIFE THAN THIS!
If you have ever spoken these words, ever felt the internal battle of wanting more or different, or ever wrestled with yourself to make choices that would maximize your faith, relationships, mindset, finances, or time, THE WAY TO GREATNESS is for you!
You have an enemy ready to steal your peace, kill your dreams, and destroy your life. But there is HOPE!  You have a loving God who has planned a full, rich, satisfying, abundant life for you!
Close your eyes. Imagine your very best life. Know that God has given you this vision.  Yet far too often, somewhere along The Way, you discover the enemy has hijacked the vision God planted within you.
Let THE WAY TO GREATNESS train you to recapture the life God has shown you. Discover The Five Continual Choices That Lead To The GREAT Life.  Access a repeatable action plan to implement every time you need it:  Build Your God-Core, Protect Your Relationships, Renew Your Mind, Manage Your Resources, Maximize Your Time.
CLICK HERE to receive a FREE copy of The Way To Greatness!

OUR WORLD DESPERATELY NEEDS MORE QUALITY LEADERS!
Watch the news on any given day and you will see numerous global crises with various causes. Nations are at odds with one another. Politicians continue to attack each other. Corruption is rampant in the public and private sectors. Leaders are burning out. People are becoming increasingly weary and skeptical of those in charge. Employee engagement levels remain unnecessarily low.
There is a solution. There is a better way to lead.      In The Magnetic Leader, you will discover 18 essential actions you can practice daily to transform your leadership and multiply your impact. Implement these actions and people will be drawn to your team. Your influence will grow.
Leaders who connect to these 18 essential actions bring transformation to their families, teams, organizations, communities, nations, and the world. They become models worth following. They help others become better. They attract quality people they desire into their mission or cause, and keep them engaged. In a word, they become magnetic!
The Magnetic Leader is not a book of theory. Rather, it is a book of character qualities and leadership actions which you will want to embrace and adopt immediately. Author Chris McClure has intentionally invested in his leadership skills for more than 25 years. Now he is passing along lessons he's learned so you can join him in being part of the solution to our world's greatest leadership problems.
CLICK HERE to learn more!