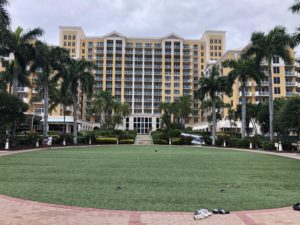 My family had the privilege of vacationing with friends at the Ritz-Carlton hotel on the small island of Key Biscayne, Florida this summer. It was our first time staying at a Ritz-Carlton property. It was an experience we'll never forget. The service was truly top-notch. The property is beautiful. We felt like we were in a whole other world than the typical hotel experience.
But honestly, we expected this to be the case…the Ritz-Carlton has a reputation for all of the above to be true. Therefore, anything less would've been disappointing.
As we enjoyed the phenomenal poolside service and attention, one of the servers stood out. We met Lucia, a college exchange student from Argentina. She is majoring in hotel management and is spending a year in the U.S. learning the Ritz-Carlton way. As we observed and interacted with her, it became more and more noticeable that she is possibly THE best server on their team. I knew I needed to write about our experience with her as an example of what is possible when you take pride in your work.
So, what made Lucia stand out in an already-great service environment? Here are a few things worth noting:
She always had a smile on her face – even in the extreme south Florida heat
She was very attentive to her customers – she continually asked if we needed anything
She did the little things that others didn't do – she picked up trash when she wasn't placing orders or delivering food (I saw no other servers do this consistently)
She was very personable and engaging – she took the time to talk with us about her life and Ritz-Carlton experience
She served our section to help her busy co-worker – we weren't her customers one day, but she helped anyway
She worked hard during her entire shift – we never saw her slacking
She made up for her errors – she gave us free drinks when she gave us incorrect information
There are probably many more things that Lucia did that were not as noticeable, but I believe she gives us many important things to consider in our work and lives. Many people want to be promoted or receive raises, but most aren't willing to "play the part before they get the part." Too many of us want to be given an opportunity and THEN do the required work. The fast-track to promotion is working above your pay grade.
As leaders, much of what we do isn't very fun or attractive. Leadership is hard. It's messy. It's often exhausting. So many people want the perks of leadership without dealing with the responsibilities and costs. Lucia stood out because she was willing to put in the work to be successful. While her co-workers were doing a "good" job, she was doing a "great" job. Even if she was only one percent better, she rose above the norm and stood out.
One of my observations about customer service these days is that the bar is pretty low to succeed. Employees often see customers as more of a nuisance rather than a priority. Visit most stores or restaurants and you'll immediately see what I'm talking about. This is why franchises like Ritz-Carlton and Chick-fil-A stand out. They have excellent customer service while other similar brands are mediocre at best.
If you want to stand out in your work and life, learn from our experience with Lucia. I believe she'll one day be managing a Ritz-Carlton hotel because she's putting in the work now, which will lead to high levels of success later.
***If you'd like to receive future leadership articles and updates from me, join my email community HERE.